Published: April 2011

Twitter Updates
Adverse reactions and injuries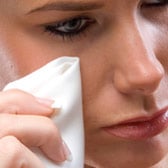 Over the past two years, the Food and Drug Administration has received 47 complaints of adverse reactions and injuries from salon workers and clients who used Brazilian-style straightening treatments, according to FDA records obtained by the Environmental Working Group through a Freedom of Information Act request.
Reported injuries:
"Within five days of the treatment I began losing large amounts of hair… I have experienced about a 40% volume loss in my hair and it continues to fall out at the same alarming pace."
"Hair continued to fall off as she continued to rinse. Blisters also discovered on the back of head… Complainant developed severe stability problems (severe dizziness)… Physician examined and noted hair loss, blisters on scalp and ulcer formation in her mouth."
"I immediately experienced burning eyes, burning and running nose and a burning throat… I was in agony during and after the appointment."
"flu-like symptoms emerged, including headaches, vomiting… Clusters of her hair were also falling off. Complainant contacted salon owners to obtain BB [Brazilian Blowout] ingredients but was denied. Complainant's condition continued to deteriorate – persistent vomiting, difficulty breathing, chest, eye and nose irritation developed…Complainant was admitted to [redacted facility name] for respiratory distress… severe stability problems, persistent vomiting… Physician called poison control and was told that BB [Brazilian Blowout] did not contain any "harmful" chemicals."
"Severe neck rashes, itching, welting, redness, eventually also rash appeared on sides of face… Severe eye burning reaction, also slight bleeding in right nostril two days later."
Health agencies in six countries — Australia, Ireland, Canada, France, Germany and Cyprus — have announced recalls of formaldehyde-based hair straighteners. Yet FDA has adopted a "wait-and-see" approach. According to its website the agency says it is "working… to determine whether the products or ingredients would be likely to cause health problems under the intended conditions of use… FDA will continue to monitor this problem and will report on any new developments" (FDA 2010A).
FDA's Adverse Event Reporting System is voluntary and likely underplays the actual number of complaints. In 1995, John E. Bailey, Ph.D., director of FDA's Office of Colors and Cosmetics, estimated that the agency received one of every 50 reports of adverse reactions received by industry (Stehlin 1991). (More recent estimates are not available.) Under a voluntary system companies have no incentive to report their customers' injuries and every reason to soft-pedal possible dangers. Consumers rarely report injuries to FDA on their own.
FDA injury reports obtained by EWG are excerpted below and available in full. [6 MB PDF file]
| FDA complaint – PDF Page | Company – Product | Date | Excerpt |
| --- | --- | --- | --- |
| (113679, 113833, 113834 – Page 4 – 5) | Brazilian Blowout – "Brazilian Blow-out" | May 18, 2009 | "the smell from the product caused her eyes to burn The smell caused two hairstylists to have breathing problems and one of them had to leave work One man at the salon got a headache and also had to leave" |
| (124344 – Page 6) | "Brazilian Keratin Treatment" | March 11, 2010 | "person experienced headaches, dizziness, and blurred vision" |
| (125176 – Page 6) | Brazilian Blowout – "Brazilian Blowout/Hair Treatment" and "Ultrasmooth/Blowout Lotion" | March 26, 2010 | "Salon owner reports her hair stylists using Brazilian Blowout Hair Straightener and Conditioning Lotion products are becoming ill from the strong formaldehyde fumes Some of the stylists and few customers developed respiratory symptoms, persistent coughs, headaches, eye irritation Complainant attempted to obtain ingredient list from company but was refused claiming proprietary information… This compliant is the latest of four calls rec'vd at FDA pertaining to Brazilian Blowout since 5/8/09″ [Follow-up with manufacturer by FDA representative is described in this complaint.] |
| (132453 – Page 19) | Coppola – Copomon Enterprises, LLC – "Coppola/Keratin Complex" | September 20, 2010 | "Hair loss about the size of a silver dollor on the temple area of the head" |
| (131040 – Page 9) | Brazilian Blowout – "Brazilian Blowout Solution Pro Treatment for Smoothing Hair" | September 28, 2010 | "During the blow drying process, the fumes and/or vapors which emit into the air… are causing shortness of breath, chest pains, itchy and watery eyes and a list of other symptoms such as rashes and fainting" |
| (131006 – Page 8) | Brazilian Blowout – "Brazilian Blowout Solution" | September 29, 2010 | "Watery eyes, breathing problems, burning sensations" |
| (117127 – Page 28) | Brazilian Blowout – "Brazilian Blowout" | October 8, 2010 | "[Client] and her hairdresser both had a severe reaction to the product. Both had burning eyes, burning nose, sore/raw throat and acute headache… MSDS for this product dose not list any chemical agents" |
| (131005 – Page 8) | Brazilian Blowout – "Brazilian Blowout" | October 8, 2010 | "The stylist just said to keep [my eyes] closed Seemed like this had happened often- but it was extremely irritating and my eyes were burning/tearing even through closed eyes" |
| (131003 – Page 7) | Brazilian Blowout – "Brazilian Blowout" | October 10, 2010 | "Each time I have experienced burning/running eyes and nose, headaches and extremely raw and sore throat I have contacted the company several times to question the adverse health effects that I and others experienced only to be told each time that the product is 100 percent formaldehyde free and safe" |
| (132586 – Page 20) | Coppola – Copomon Enterprises, LLC – "Natural Keratin Smoothing Treatment" | October 10, 2010 | "Hospital 2X, dizziness, severe headaches, dermatitis, sinus problems, throat no voice, on and off voice, lungs treated with inhaler, nasal spray, pain meds" |
| (130998 – Page 7) | Brazilian Blowout – "The Brazilian Blowout" | October 12, 2010 | "I've had nose bleeds, very raw nose, difficulty breathing, pressure in chest, eyes will not stop burning and coughing, which has become progressively worse each time this product is used in the salon" |
| (131017 – Page 8 and 134558 – Page 27) | Brazilian Blowout – "Brazilian Blowout" and "Strength Brazilian Blowout" | October 13, 2010 | "Made it hard for to breathe while blow drying, my eyes and my clients eyes watered and burned My co-worker broke out in hives after applying" |
| (133134 – Page 22) | Brazilian Blowout – "Brazilian Blowout/Shampoo and Conditioner" | October 15, 2010 | "Complainant experienced scalp burn, respiratory distress after hairdresser used Brazilian Blowout Her sinuses, ear canal painful" |
| (117544 – Page 52) | Brazilian Blowout – "Brazilian Blowout" | October 15, 2010 | "experienced instant burn in eye, sinus and ear canal congestion upon initial exposure to Brazilian Blowout hair care product. At time of this complaint, Complainant had presence of blood whenever nose is blown… dx symptoms including blepharitis, (chronic inflammation of eyelids caused by backup in meibomian gland)" |
| (117159 – Page 32) | Coppola – Copomon Enterprises, LLC – "Keratin Complex Smoothing Therapy" | October 18, 2010 | "she becomes nauseous, dizzy, gets a sore throat, has a racing heart, double vision, eyes burn, gets a tightness in her chest, headache, fever and has a lack of oxygen to the brain" |
| (131251 – Page 10) | Brazilian Blowout – "Brazilian Blowout Solution" | October 18, 2010 | "Within five days of the treatment I began losing large amounts of hair, at least three-four times what I would usually lose in a day in one month, I have experienced about a 40% volume loss in my hair and it continues to fall out at the same alarming pace" |
| (117188 – Page 37) | Coppola – Copomon Enterprises, LLC – "Keratin Treatment & Express Blowout" | October 19, 2010 | "experiences heart palpitations, lightheadedness, and burning in her eyes, nose and throat" |
| (117280 – Page 41) | Brazilian Blowout – "Hair Straightener" | October 21, 2010 | "Complainant was told to not remove product [Brazilian Blowout product applied after straightening] for 8 days until she return to the salon. After 2-3 days chemical odor and scalp pain became so unbearable she had to rinse her hair… flu-like symptoms emerged, including headaches, vomiting… Clusters of her hair were also falling off. Complainant contacted salon owners to obtain BB [Brazilian Blowout] ingredients but was denied. Complainant's condition continued to deteriorate – persistent vomiting, difficulty breathing, chest, eye and nose irritation developed…. Physician dx her with severe head swelling, hives… Complainant also has COPD and controlled asthma which chemical odor re-inflamed… Complainant was admitted to [redacted facility name] for respiratory distress… severe stability problems, persistent vomiting… Physician called poison control and was told that BB [Brazilian Blowout] did not contain any 'harmful' chemicals" |
| (131499 – Page 11) | Brazilian Blowout – "Brazilian Blowout" | October 22, 2010 | "I immediately experienced burning eyes, burning and running nose and a burning throat… I was in agony during and after the appointment My eyes, especially the left one continued to burn and I ended up at the optometrists office where I was diagnosed with an corneal abrasion" |
| (131687 – Page 13) | Brazilian Blowout – "Brazilian Blowout" | October 22, 2010 | "I have had stinging watery eyes, headaches and nose burning from the fumes" |
| (131686 – Page 12) | American Culture Hair – "Simply Smooth Keratin Treatment" | October 22, 2010 | "Immediate effects burning of scalp, exposed skin, eyes, nose, throat and chest, headache, tightness feeling to chest like bronchial irritation" |
| (131679 – Page 12) | Global Keratin Xtremeon, USA – "Global Hair Taming System with Juvexin" | October 26, 2010 | "The first time I used the product I could – taste it in my throat and smell it for hours after the service The second time I used the product my tongue was tingling and numb for a couple of hours and my eyes burned" |
| (131532 – Page 11) | Brazilian Blowout – "Brazilian Blowout Solution Pro Treatment for Smoothing Hair" | October 27, 2010 | "After washing/rinsing product out of her hair complainant immediately noted hair loss… Over time hair became thin and she experienced more hair lost" |
| (117387 – Page 47) | Brazilian Blowout – "Brazilian Blowout" | October 28, 2010 | "developed headache, nausea, fatigue and anxiety symptoms whenever Brazilian Blowout used at the salon" |
| (132870 – Page 21) | Brazilian Blowout – "Brazilian Blowout/Hair Straightener" | November 2, 2010 | "Experienced burning, stinging eyes and immediately gets a headache after he finishes the treatment" |
| (132280 – Page 17) | Brazilian Blowout – "Brazilian Blowout" | November 2, 2010 | "Loss of taste and smell during the week she had a Brazilian Blowout" |
| (132284 – Page 17) | Brazilian Blowout – "Brazilian Blowout Acai Professional Smoothing Solution / Brazilian Blowout Solution Formladehyde Free" | November 3, 2010 | "I constantly now have headaches and my right eye does not stop watering… I am nauseous every day" |
| (132278 – Page 17) | Brazilian Blowout – "Brazilian Blowout" | November 4, 2010 | "Significant eye irritation – headache" |
| (131804 – Page 13) | "Keratin Hair Treatment" | November 5, 2010 | "Has experienced losing her voice, lung irritation, throat irritation, sinus irritation, skin irritation, headaches, and dizziness" |
| (132287 – Page 17) | Marcia Teixeira – M&M International – "Brazilian Keratin Treatment" | November 5, 2010 | "During the time of my hair treatment, I experienced eye irritation and a bad smell" |
| (132289 – Page 18) | Brazilian Blowout – "Brazilian Blowout – New Formula" | November 5, 2010 | "My hair started falling out and continues to do so I have been to my dermatologist and he confirms that my hair follicles have been damaged" |
| (132276 – Page 16) | Brazilian Blowout – "Brazilian Blowout" | November 7, 2010 | "I did have noticeable eye irritation where I felt like my eyes were burning" |
| (132033 – Page 13 – 14) | Brazilian Blowout – "Brazilian Blowout/Hair Straightening & Conditioner" | November 9, 2010 | "Hair continued to fall off as she continued to rinse Blisters also discovered on the back of head… complainant developed severe stability problems (severe dizziness)… Physician examined and noted hair loss, blisters on scalp and ulcer formation in her mouth" |
| (132303 – Page 18) | Brazilian Blowout – "Brazilian Blowout" | November 9, 2010 | "We did our own air quality test in the salon while doing a service The lab just reported that there was the highest levels of formaldehyde they've ever seen in a product and it is potentially an extremely dangerous product if not used properly… We have experienced short term eye irritation, breathing problems, and headaches while doing the service and up to 12hrs after We are unsure and concerned with the long term health effects" |
| (132391 – Page 19) | Brazilian Blowout – "Brazilian Blowout" | November 10, 2010 | "Experienced burning eyes and requested salon to open the door for better ventilation Also experience a funny taste sensation on my tongue during the process" |
| (132275 – Page 16) | Brazilian Blowout – "Brazilian Blowout" | November 10, 2010 | "I am still symptomatic with nausea, stuffiness, fatigue, nasal blockage, chest pain, difficulty breathing" |
| (132039 – Page 15) | Brazilian Blowout – "Brazilian Blowout/Hair Straightener" | November 12, 2010 | "Her eyes burn, her nose burns and she experienced nosebleeds, throat swellings, and headaches" |
| (132202 – Page 15) | Brazilian Blowout – "Brazilian Blowout"/Coppola – Copomon Enterprises, LLC – "Keratin Complex" | November 17, 2010 | "The complainant experienced headaches, eye irritation, and congested sinuses" |
| (132733 – Page 20) | Coppola – Copomon Enterprises, LLC – "Peter Copolla Keratin Straightening Treatment" | November 20, 2010 | "hair loss increased in volume with each additional treatment. The last treatment was done in July 2010, caused massive hair loss" |
| (132848 – Page 20 – 21) | Coppola – Copomon Enterprises, LLC – "Coppola Designer Hair Care/Keratin Complex" | November 25, 2010 | "severe neck rashes, itching, welting, redness, eventually also rash appeared on sides of face…severe eye burning reaction, also slight bleeding in right nostril two days later" |
| (133106 – Page 22) | Thomassen Beauty Supply – "Pure NV BKT" | December 1, 2010 | "Drastically changed color of hair immediately and within a week had extreme hair loss which has not stopped" |
| (133107 – Page 22) | Brazilian Blowout – "Brazilian Blowout Acai Straightener" | December 1, 2010 | "While my stylist was applying the solution to my hair my eyes started to burn, sting and tear excessively My eyes remained red for the remainder of the day and I also was having persistent coughing fits" |
| (133146 – Page 23) | Brazilian Blowout – "Brazilian Blowout" | December 6, 2010 | "Within 10 minutes of application, my eyes stung so severely that I was tearing up -Within 10 minutes of application, I felt a very painful burning sensation in my nostrils… That same evening I had a slight sore throat -The next morning, I had a very sore throat and red eyes" |
| (133374 – Page 24 and 133841 – Page 26) | Brazilian Blowout – "Brazilian Blowout Treatment" | December 9, 2010 and December 10, 2010 | "Caused her to suffer shortness of breath, facial swelling, irritation to her eyes, nose and throat, throat damage, nasal discharge, sputum, sinus drainage, coughing, inhalation pneumonitis, bronchitis, hoarseness, memory problems, and fatigue" |
| (133684 – Page 25) | Keratin Express | December 13, 2010 | "My scalp had been itching from the day I got the treatment and had become very dry… My hair continued to break and fall out I went back to the dermatologist and by this time my thick upper hair had a huge bald spot and I was given steroid injections" |
| (133968 – Page 26) | Brazilian Blowout – "Brazilian Blowout/Professional Products" | December 21, 2010 | "Experienced headaches, burning throat and lungs, and nausea" |
| (134420 – Page 27) | Brazilian Blowout – "Brazilian Blowout Treatment + Shampoo, Conditioner, Serum and Masque" | January 10, 2011 | "I had upper respiratory irritation symptoms, head cold or so I thought Than I began coughing and wheezing with cheat pain…was hospitalized with pneumonia" |