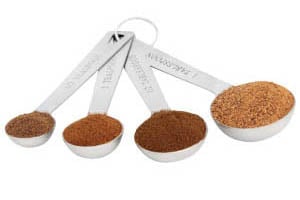 These items appear frequently throughout recipes and are great to have on hand to create tasty, low cost home-cooked meals in a flash.
Staples
These longer-lasting supplies can be bought in bulk or in larger sizes when on sale.
Used often
honey or brown sugar
peanut butter
soy sauce
low sodium (salt)
vinegar
Handy to have
Dijon mustard
stock for soups
low sodium (salt)
whole wheat flour
Spices
Spices go stale, so they are best bought in small amounts and whole when you can find them. Grinding only what you need (kids love using a mortar and pestle) helps them keep longer—and you don't have to use as much. Ethnic markets often stock spices at good prices. The best way to save on spices: grow your own!
Used often
salt
pepper
onions
garlic
lemon juice
cinnamon
cayenne pepper
Handy to have
bay leaves
cumin
rosemary
thyme
vanilla extract
chili powder
dill
fennel
ginger
lime juice
dried oregano
paprika
parsley