Unlimited Subsidies, High Prices Threaten "Prairie Potholes"
By Scott Faber, Soren Rundquist, Brett Lorenzen
High crop prices combined with unlimited insurance subsidies are contributing to the rapid loss of wetlands and prairie grasslands in the "prairie pothole" region of North and South Dakota, Montana, Nebraska, Minnesota and Iowa.
The mix of small wetlands and native grasslands in the Prairie Potholes create a unique and irreplaceable natural resource that helps keep streams and groundwater clean, reduces flooding and provides habitat for more than 170 species of birds. Roughly half of America's migrating waterfowl breed and feed in these freshwater marshes each year.
Grasslands once covered much of the Plains. Between 1850 and 1950, people uprooted roughly 260 million acres, primarily to grow crops. Nearly 30 million more acres were converted between 1950 and 1990.
The pace then slowed, thanks to key provisions in the federal farm bill. Farmers agreed to protect wetlands in return for receiving farm subsidies, and new programs were created to reward farmers who protected or restored grasslands. Wetland losses on agricultural land were cut by three-fourths, and 7 million acres of grasslands was restored in North Dakota, South Dakota and Minnesota alone.
Now these conservation gains are threatened as high crop prices and unlimited insurance subsidies encourage farmers to once again plow up grasslands and drain wetlands. About 16.6 million acres of remaining wetlands are on cropland and pasture, making them highly vulnerable to being drained to expand cultivation.
Maps released today by the Environmental Working Group using U.S. Department of Agriculture's National Agricultural Statistics Service cropland data layer highlight how expanding crop production is driving the loss of grasslands and wetlands. The area planted to corn and soybeans alone between 2008 and 2011 increased by more than 75,000 acres per county in many counties in eastern North Dakota and western Minnesota and by more than 200,000 acres in three counties eastern North Dakota.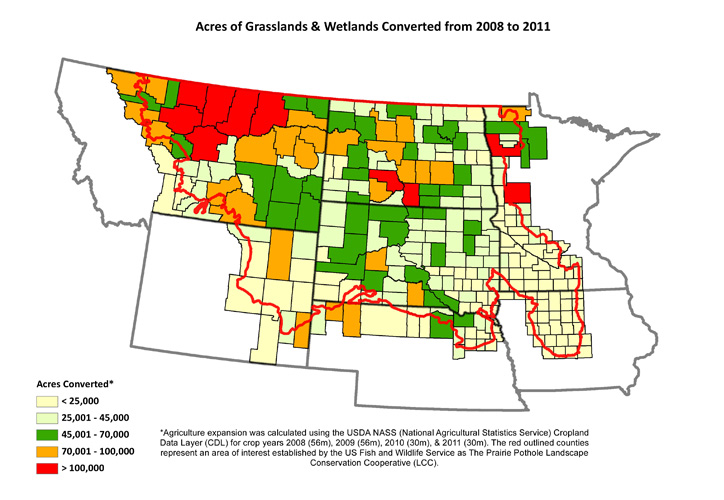 10.2 million acres of grasslands and wetlands were converted to row crops, small grains or alfalfa between 2008 and 2011. Ten counties (in red on the map) lost more than 100,000 acres of grasslands and wetlands during this period.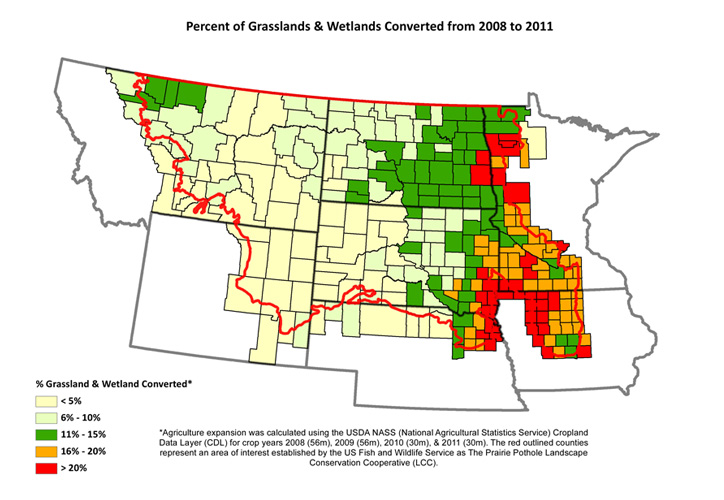 Conversion of grasslands and wetlands was particularly intensive in the eastern prairie pothole region – 43 counties 20 percent or more of their remaining grasslands and wetlands.
Congress can turn this situation around by renewing the conservation compact under which farmers once agreed to protect wetlands and grasslands in return for farm subsidies. Insurance subsidies, which have become the most expensive income support program for farmers, should go only to farmers who agree to protect these vulnerable areas and stem soil erosion. Congress should reform the bloated crop insurance program, link it to conservation requirements and use the savings to strengthen voluntary conservation programs.
Instead, however, the Senate Agriculture Committee has proposed to extend insurance subsidies with no conservation strings attached and to create a brand new program to guarantee much of the business revenue of corn and soybean farmers. Conservation programs will be cut to make room for this new entitlement.
The Senate's proposal will further accelerate the loss of the "prairie potholes" that support migratory birds, and increase the use of farm chemicals and the soil loss that pollute our rivers and lakes. Draining these wetlands and plowing these prairies – along with potentially millions of acres of natural areas across the country that are similarly at risk – will also increase the risk of flooding in downstream communities, threaten imperiled species, impose new costs on drinking water systems, and generate billions of dollars in cleanup and restoration requirements. It makes no sense to create a new insurance program at a cost of tens of billions of dollars that encourages the kinds of environmental damage that will require hundreds of billions to address later.
As the USDA has noted in the past:
"Compliance mechanisms may provide the best bang for the buck as a deterrent to environmentally damaging actions such as draining wetlands or bringing new HEL into crop production. Compliance sanctions are triggered only when a violation occurs. In contrast, using conservation payments to achieve these same ends is likely to be difficult or expensive."
Environmental Compliance in US Agriculture Policy, USDA Agricultural Economic Report 832
In the coming markup of the farm bill, the Senate should once again attach conservation compliance provisions to crop insurance subsidies. Programs with proven economic and environmental results should be the last things Congress eliminates. In this budget climate, taxpayers can't afford programs that waste money now and will waste more in the future as well.
Photo courtesy of USDA NRCS.