At the Environmental Working Group, we talk a lot about firsts.
We were the first group to map chemicals found in the human body in the groundbreaking   "human toxome project," which showed what chemicals babies were exposed to in the womb. EWG was also the first to make public exactly which industrial farming operations were receiving millions of your tax dollars through the country's broken farm subsidy system.  We were first to tell you which personal care products contain toxic ingredients, through our wildly popular free online interactive database, EWG's Skin Deep.
Last year, my family and I began a new chapter in northern California.  While I'm constantly back in Washington battling on Capitol Hill for more support for small and local farmers, I now live amid organic farms that are now our partners in the effort to conserve and protect America's precious soil and fresh water. The move made the issues on which my colleagues and I had been working for two decades that much more real – and the accomplishments of 2011 that much sweeter. Among them:
California's ban on bisphenol A, the toxic plastics chemical, in baby bottles and sippy cups;
EWG's campaign to defeat the farm subsidy lobby's bid to enact a secret farm bill behind the closed doors of the Congressional "super committee" charged with reducing the deficit;  
New sunscreen safety rules issued by the federal Food and Drug Administration;
And many more outlined in this Annual Report.
These kinds of results, and in fact EWG's business model overall, reflect my path as a social entrepreneur. We aim to drive social change with original research and data analysis presented through a journalistic lens. Whether we look at farm subsidies or toxic chemicals in personal care products, our consumer guides enable EWG to connect with individuals where they live.  
In 2013, EWG will celebrate its 20th anniversary.  We intend to reach even more people in creative and effective ways, using social media, smartphone apps, interactive, database-driven analyses and savvy, nimble tactics.
Those I've met in my new community and on my travels inspire me.  Their enthusiasm and fresh perspectives teach us all how we can meet the challenges of the age.  We need to think in entrepreneurial ways if we are to move markets and guide policymakers to the right decisions. Seeing local battles for laws to label genetically-modified food and to ban BPA reminds me that across the nation, well-informed advocates like you are fighting for Americans' right to know, for corporate transparency and responsibility and for government policies that truly protect children and other vulnerable people. 
Your passion is infectious. Your support renews my sense of urgency to make sure that EWG's work has an impact every day.  Our accomplishments in 2011 were a sound foundation for the next round of advances this year and next.
Thank you for inspiring me daily– no matter what coast I'm on.
EWG President Ken Cook introduces the 2011 Annual Report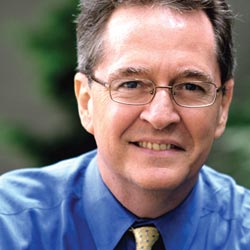 Ken Cook, EWG President
Ken Cook, president and co-founder of Environmental Working Group, is widely recognized as one of the environmental community's most prominent and effective critics of establishment agriculture and U.S. farm policy. Under his leadership, EWG's research and analysis are major forces in national policy debates over toxic chemicals, pesticides and air and water pollution.
In 2009, Cook was voted the "Ultimate Green Game Changer" by readers of The Huffington Post. As Arianna Huffington put it, "The EWG is an environmental superhero with a full set of digital tools in its arsenal."
Read more
Cook is a principal architect of the landmark conservation provisions of the 1985 farm bill, which for the first time attempted to shift the emphasis in U.S. farm policy away from a narrow focus on maximum crop production and toward the conservation of land, water, wetlands and wildlife.
Under Cook, EWG's breakthrough innovation has been the creation of easy-to-use, online searchable databases to drive policy debates and bring about systemic change. The EWG Farm Subsidy Database has generated thousands of stories about America's broken farm policy. The New York Times said the website helped "transform the [2002] farm bill into a question about equity and whether the country's wealthiest farmers should be paid to grow commodity crops while many smaller family farms receive nothing and are going out of business." Cook and EWG played a similarly prominent role during the crafting of the 2008 farm bill.
EWG has expanded this hallmark interactive data analysis model to map toxic pollution in people for EWG's human toxome project, plot nuclear waste transportation routes to Yucca Mountain, display mining claims near the Grand Canyon, analyze tap water quality nationwide and provide consumers with cosmetics ingredient safety information. EWG's databases and data visualization projects transform abstract concepts to tangible, personal connections with millions of people.
Cook earned a B.A. in history, B.S. in agriculture and M.S. in soil science from the University of Missouri-Columbia. He is a board member of The Organic Center and the Amazon Conservation Team. He and his wife Deb Callahan live in California with their son, Callahan Cook.
Key Areas...