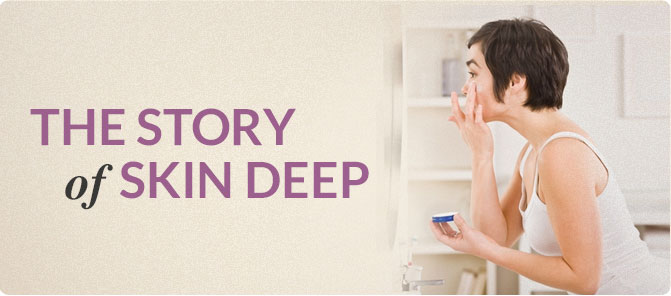 Published: July 2014
It started with a simple question – how many personal care products do people use every day?
It turns out that when Jane Houlihan, then EWG's vice president of research, asked this question 10 years ago, she was starting a movement that would change the way people view personal care products – a movement that is changing markets and inspiring healthier living.
As a cosmetic industry executive remarked to EWG president Ken Cook, "Before the EWG database [Skin Deep] came along, women thought they were putting on makeup. Now they think they're putting on chemicals."
Houlihan and EWG's research team discovered that on average, women and men use nine personal care products every day – usually shampoo, toothpaste, soap, deodorant, hair conditioner, lip balm, sunscreen, body lotion and, depending on gender, shaving products or makeup. Parents might rub, spray, or pour some combination of sunscreen, diaper cream, shampoo, lotion, and maybe insect repellant onto a child's skin.
EWG concluded that people applied an average of 126 unique ingredients on their skin daily. That's a lot of chemicals. Until EWG's report, most people had not given the chemicals in their personal care products a second thought, believing that the government was policing their safety. But, as EWG's reports made clear, they were wrong. The government does not require long-term safety studies or pre-market testing for most of the ingredients in these products.
Moreover, some ingredients had the potential to harm the health of humans and animals.
EWG decided to take on this public health issue. If we are exposing ourselves – and our families – to hundreds of ingredients, don't we have a right to know what they are and if they are safe?
Yes, we have a right to know.
EWG launched Skin Deep to inform people exactly what was in all those bottles and jars.
"We will rate them all," Houlihan told Cook.
Ken sat there pondering this notion, nodding slowly – all personal care products on the market? It sounded like a monumental endeavor. But EWG's research team, spearheaded by EWG senior analyst Sean Gray, who later became known as the "Wizard of Skin Deep," delivered. The first report rated 7,500 products and almost 7,000 ingredients. Today, Skin Deep rates 70,000 products and almost 11,500 ingredients.
Along the way, EWG learned that nearly 85 percent of the ingredients approved by the Food and Drug Administration for use in personal care products had not been evaluated for safety by the agency, the industry's Cosmetics Ingredient Review panel or any other regulatory body. We knew we had to dig deeper and rely on science to tell this story.
We issued reports on chemicals in cosmetics, such as BeautySecrets and have partnered with organizations like the Campaign for Safe Cosmetics.
Since EWG launched Skin Deep in 2004:
More sunscreens on the market contain ingredients that protect from damaging UVA radiation.
Some sunscreen brands have removed vitamin A after EWG released findings of a government study that showed that it may speed the development of skin cancer.
More chemicals used in cosmetics are being assessed for safety. But while the number has certainly decreased over the last decade, there is still a lot of work to get it to where it needs to be – zero.
---
---
---
---