Faking Takings
Farm Subsidies and Private Property in Perspective
Table 2
The Conservation Reserve Program boosted land values for eligible acres by nearly $5 billion between 1986 and 1987.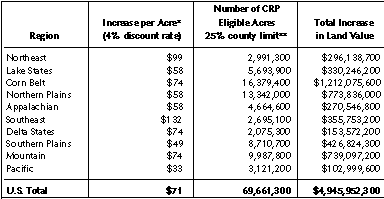 * Data are based on the change in bid values in the first five CRP sign-ups in fiscal years 1986 and 1987. ** About 101 million acres of cropland nationwide met the highly erodible definition for CRP eligibility in 1986. However, CRP participation cannot exceed 25% of a county's cropland unless a waiver is approved by the Agriculture Secretary. This limitation effectively reduced eligibility to 70 million acres in 1986.
Source: Shoemaker 1989 and U.S. Department of Agriculture, 1990c.