EWG's Guide to Bug Repellents in the Age of Zika
What to look for in a bug repellent
EWG's Guide to Bug Repellents in the Age of Zika: What to look for in a bug repellent
Download our Zika tip sheet | Read our Zika bug repellent guide | Download our tip sheet | Download our report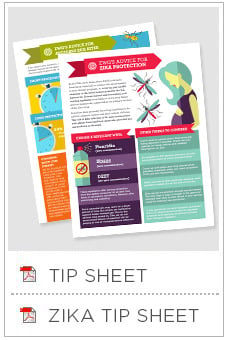 What to look for in a bug repellent
No repellent works every place against every pest. You should research the diseases carried by mosquitoes and other insects and ticks where you plan to spend time outside and consider the best bets for yourself and your family. The repellent you might choose for a Lyme disease-infested area or a backcountry trip in Alaska could be different from the one that might suffice for a picnic on the beach.
According to the available scientific literature, when you really need protection, your best bets are products made with active ingredients that have been registered with the U.S. Environmental Protection Agency and approved by the CDC. When a company registers a bug repellent, it must provide EPA with technical information that shows that the chemical is effective against mosquitoes or ticks or both. EPA must approve any marketing claims that assert that the repellent works for a particular length of time.
Tests have found that these four registered and approved repellent chemicals offer a high level of protection from a variety of biting insects and ticks and have good safety profiles:
Beware when using any of these repellent chemicals: you must follow basic guidelines to avoid overexposure. These are strong chemicals. Some should not be used on infants and young children.
If you hesitate to try a new bug repellent, start with the backyard, neighborhood and places you go regularly. If one product fails to deter biting bugs as you had hoped, next time out try a different formulation with a higher percentage of the repellent chemical you think best for your outing, or a product with another active ingredient.
Repellent Chemicals & Common Brands
Picaridin
Avon Skin-So-Soft Bug Guard Plus Picaridin
Cutter
Cutter Advanced
Natrapel 8-hour
Off! Active
Off! Family Care
Walgreens Light & Clean
DEET
Bug Off
Buzz Off
Cutter
Off! Active
Off! Family Care
Off! Deep Woods
Repel
Ultrathon
Oil of Lemon

(with enhanced PMD concentration)

Coleman Botanicals
Citrapel
Fite Bite
Repel Essential
| | |
| --- | --- |
| IR3535 | PMD |
| Coleman Skin Smart | OFF! Botanicals |
What about botanicals?
Products based on botanical extracts may be worth trying if bug-borne diseases are not known to be a problem where you are going. But many of these products contain allergens in highly concentrated forms. Effectiveness varies widely. The Environmental Protection Agency does not require registration and testing of these botanicals for effectiveness or safety, so there is not much data to confirm or contradict their advertising claims. Consumers have no assurance that the product actually works. That is why the only botanically-derived ingredient the CDC recommends is Oil of Lemon Eucalyptus/PMD, which has been registered with the EPA and undergone efficacy testing.
Before you grab for the bottle
Repellents should be a last choice
First:
Give bugs a smaller target. Cover up with light-colored clothing. In bug country, wear long-sleeved shirts with high collars and bandanas. When walking in tall grass or brush, tuck pants into socks to keep ticks and chiggers off your body. Use nets and or fans over outdoor eating areas and place nets over strollers and baby carriers. Send your kids to camp with mosquito netting for their bunks.
Get rid of mosquito breeding grounds. Drain standing water around your home. If you live in a place with a high tick concentration, make a wood chip barrier between your yard and wooded areas, mow the lawn, clean up brush regularly and follow the CDC's guidelines for reducing your yard's tick population.
Know your enemy
If you are in a place that presents few risks for pest-borne diseases and don't mind getting a few bug bites, your choice of repellent may not be that critical. On the other hand, if you need to protect yourself from Lyme disease, West Nile or other serious mosquito- and tick-transmitted diseases, your repellent and other preventive actions are serious decisions. It is vital that you research the common pest-borne diseases in your area (or where you are headed) so that you can match your choices to your risks.
Lyme disease cases are highly concentrated in 13 Northeastern and Mid-Atlantic states, from Virginia to Maine, and the upper Midwest, mostly in Wisconsin and Minnesota (CDC 2013A). You are most likely to contract Lyme disease between late April and mid-July.
West Nile cases have been found in almost every state, with the highest numbers reported in Texas, California, Illinois, Louisiana, Michigan, Mississippi and Oklahoma (CDC 2013E). According to the CDC, infections from mosquitoes carrying West Nile virus occur primarily in the summer months, peaking in August (CDC 2012B).
Much more information is available on the websites of the CDC and the World Health Organization.