EWG's Guide to Bug Repellents in the Age of Zika
Repellent Chemicals
EWG's Guide to Bug Repellents in the Age of Zika: Repellent Chemicals
Download our Zika tip sheet | Read our Zika bug repellent guide | Download our tip sheet | Download our report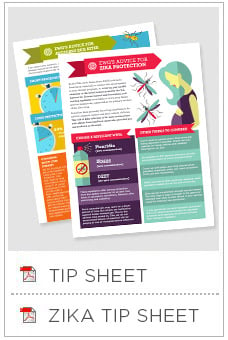 Repellent Chemicals
Picaridin
Picaridin, developed by Bayer AG in the 1980s and sold in the U.S. since 2005, is not known to irritate skin and eyes, does not have a pungent odor like DEET and does not dissolve plastics (EPA 2005). It evaporates from the skin more slowly than DEET or IR3535 and may repel bugs for longer periods (Debboun et al. 2007).
In efficacy testing it performs like DEET, appearing to repel a wide range of pests (Badolo 2004, Barnard 2004, Carroll 2010, Consumer Reports 2010). The World Health Organization recommends Picaridin, along with DEET and IR3535, for protection against mosquitoes that carry diseases (WHO 2012). EPA registration data indicate that Picaridin at a concentration of 20 percent is effective against mosquitoes and ticks for 8 to 14 hours and for 3.5 to 8 hours at a concentration of 10 percent.
Picaridin does not carry the same neurotoxicity concerns as DEET but has not been tested as much over the long term. Overall, EWG's assessment is that Picaridin is a good DEET alternative with many of the same advantages and without the same disadvantages.
IR3535
IR3535, whose full chemical name is 3-[N-Butyl-N-acetyl]-aminopropionic acid, ethyl ester, is structurally similar to the naturally occurring amino acid B-alanine. Merck & Co., Inc., developed IR3535 in the mid-1970s. It has been used in Europe for more than 20 years but was not registered for use in the U.S. until 1999 (EPA 1999).
IR3535 can be very irritating to the eyes but poses few other safety risks. European authorities have received no reports of health problems caused by this chemical. Like DEET, IR3535 may dissolve or damage plastics. The manufacturer recommends avoiding contact with plastics other than polyethylene and polypropylene.
Merck recommends formulations with 10 to 30 percent IR3535 to repel biting insects and ticks (Merck 2013). Consumer Reports tests found that 20 percent IR3535 was slightly less effective than 15 to 30 percent DEET in repelling Aedes mosquitoes that sometimes carry yellow fever, dengue and encephalitis. Consumer Reports found that it performed as well as DEET against deer ticks and Culex mosquitoes that sometimes carry West Nile virus (Consumer Reports 2010).
This chemical is often found in products sold as sunscreens and repellents. We recommend avoiding these products because sunscreen should be reapplied every 2 hours. Following those instructions would over-exposed the user to bug repellent.
In sum, IR3535 is a good DEET alternative with many of the same advantages and fewer disadvantages.
DEET
DEET, registered for public use in 1957, is the most common mosquito and tick repellent. It is rated as very effective in repelling a wide range of mosquitoes, ticks and other bugs. DEET has been used billions of times and is a reasonable, if imperfect, choice.
On the plus side, if used as directed, DEET is considered safe by many public health organizations, including the Environmental Protection Agency, the Centers for Disease Control, the American Academy of Pediatrics and World Health Organization (AAP 2005, CDC 2013D, EPA 1998, Schutze 2013, WHO 2012). DEET is among those chemicals recommended by WHO for protection against disease-carrying mosquitoes and is the only repellent recommended by the CDC to protect against Lyme disease (CDC 2013D, WHO 2012).
In 1998 the EPA reviewed the first 40 years of public usage of DEET along with the known toxicity information and concluded that "the normal use of DEET does not present a health concern to the general U.S. population." The agency found "no toxicologically significant effects in animal studies" (EPA 1998).
When we started our research, we were particularly concerned about the potential downsides of DEET. We still are. We urge consumers to handle DEET with caution. It is known to irritate the eyes and in intense doses may induce neurological damage (Abdel-Rahman et al 2001, ATSDR 2004, Corbel et al. 2009). In very rare cases DEET has been reported to impair the nervous system, with symptoms including seizures, tremors and slurred speech, most often after exposure to high concentrations of the chemical (ATSDR 2004, Briassoulis 2001). In addition, DEET gives off a distinct odor and can damage plastic, rubber and vinyl on a variety of gear including clothing, backpacks, glasses, watches and cameras (Schutze 2013).
In 1998, after reviewing case reports of seizures, the EPA concluded that the rate of adverse reactions appeared to be very low -- on the order of 1 per 100 million persons. The agency instructed manufacturers to provide additional instructions for minimizing overexposure to DEET. It authorized DEET for use by children but banned marketing claims that DEET products are "safe for children" (EPA 1998). EPA said it had "no evidence that would lead [it] to believe that DEET is uniquely toxic to infants and/or children," but it added that its personnel still had "concerns regarding these seizures, especially for children who are more susceptible to seizures in general and who receive a higher dose of DEET due to a greater surface area to body weight ratio" (EPA 1998).
Laboratory studies conducted since the 1998 EPA review have suggested that DEET exposure can affect the nervous systems of rats (Abdel-Rahman et al 2001, Corbel et al. 2009). People who use DEET daily have reported suffering symptoms including rashes, dizziness, difficulty concentrating and headaches (ATSDR 2004). Studies using DEET alongside the pesticide permethrin have raised concerns that DEET could cause neurological damage and epigenetic changes (Abdel-Rahman et al 2001, Manikkam et al 2012).
Still, after reviewing the evidence, EWG has concluded that DEET is generally safer than many people assume and remains a viable option for people in areas infested with disease-carrying pests. As rates of Lyme disease and other bug-borne illnesses rise, people need bug repellents that work well when it counts.
The EPA allows U.S. sales of repellents with up to 100 percent DEET, but increasing concentration does not increase efficacy. Longer protection times can be achieved by time-release products. We think it makes sense to follow Canadian government recommendations limiting DEET to 30 percent in any product and even weaker concentrations for young children (Canada 2012). The Canadian government's advice conflicts with the CDC's recommendation to use a product containing 20 to 50 percent DEET for adult protection against Lyme disease, and a product containing 20 to 30 percent DEET for children's protection. Consumers must make their own decisions about which advice to follow when it comes to using DEET on children in areas with high risk of Lyme disease.
Health Canada Recommendations for DEET Usage
Age

Recommendations

0 to 6 months

No DEET

6 to 24 months

Only when bug risks are high
5-10% DEET products
Limit to 1 application per day

2 to 12 years

5-10% DEET
Limit to 3 applications per day. Avoid prolonged use

General population

No more than 30% DEET allowed in products
Oil of Lemon Eucalyptus /PMD
Oil of Lemon Eucalyptus is the trade name for the repellent that originated as an extract of the eucalyptus tree native to Australia. The tree extract is refined to intensify the concentration of the naturally occurring substance para-menthane-3,8-diol, also known as PMD, from 1 to 65 percent. The resulting oil is very different from unprocessed tree oil.
Most Oil of Lemon Eucalyptus products on the market are made by Spectrum Brands and sold under the brand names Repel and Cutter. These have concentrations of 30 percent Oil of Lemon Eucalyptus and 20 percent PMD. Some testing has shown that concentrations of 20 to 26 percent PMD may perform as well as 15 to 20 percent DEET against both mosquitoes and ticks (Barnard 2004, Consumer Reports 2010). PMD's maximum protection time against mosquitoes and ticks is shorter than DEET's, according to EPA documents.
The Repel website does not recommend Oil of Lemon Eucalyptus/PMD when the risk of West Nile virus is high or against sand flies or the biting midges known as no-see-ums.
Refined Oil of Lemon Eucalyptus is classified as a biochemical pesticide, which the EPA defines as a naturally occurring ingredient that controls pests by non-toxic mechanisms. Ingredients in this category can qualify for EPA approval with less safety testing than synthetic chemical pesticides. However, unlike botanicals, these products have to submit tests showing effectiveness.
Because the dangers to children have not been thoroughly explored, products with Oil of Lemon Eucalyptus and PMD have labels that warn, "Do not use on children under the age of 3" (NY 2002). The CDC also advises not to use on children under three years of age (CDC 2013F). Citronellol and other chemicals in the extract are known allergens.
Synthetic PMD can be found in some repellent products at a concentration of 10 percent. These products provide only a few hours of protection and warn against use on children younger than 3. They present less risk of allergic skin reaction than natural PMD.
Scientists do not know enough to determine differences between PMD and Oil of Lemon Eucalyptus, but one study found that Oil of Lemon Eucalyptus provided longer protection than the equivalent concentration of synthetic PMD.
We conclude that Oil of Lemon Eucalyptus has disadvantages and is not appropriate for all situations but is a good choice for people who want a botanically based bug repellent.
Botanical repellents
EWG research indicates that unregistered botanically based bug repellents are not often the best choice. The most common contain castor oil, cedar oil, citronella oil, clove oil, geraniol oil, lemongrass oil, peppermint oil, rosemary oil and soybean oil. While effectiveness varies, and there may be a few exceptions, most botanicals repel bugs for a short time, if at all.
There are few data available on botanicals because the EPA has classified them as "minimum risk" pesticides, meaning, they are exempt from registration and efficacy testing. But "minimum risk" does not mean safe. Products based on these botanical ingredients generally contain known human allergens – often at much higher concentrations than personal care products.
The EPA recently convened a Science Advisory Panel meeting to discuss the possibility of requiring efficacy testing for all skin-applied repellents, including botanicals. If the agency mandates such testing, it could produce solid evidence to support – or refute – advertising claims by botanical repellent makers.
EWG recommends that consumers who are in high-risk areas for bug-borne disease or need long-lasting, effective bug protection avoid botanically-based bug repellents, aside from Oil of Lemon Eucalyptus. In other cases, you may find it worth your while to try botanical repellents to identify one that works well for you. To determine if a product might cause an allergic reaction, EWG suggests testing it on a small patch of skin before slathering all over.
| | |
| --- | --- |
| Botanical oil | Likely to contain these known human allergens** |
| Castor oil | none |
| Cedar oil | none |
| Citronella oil | geraniol*, citronellol*, limonene*, linalool*, farnesol* |
| Clove oil | eugenol* |
| Oil of Lemon Eucalyptus (PMD 65%) | citronellol, pinene, caryophyllene |
| Geraniol oil | geraniol*, citronellol*, linalool*, limonene* |
| Lemongrass oil | geraniol*, citral*, citronellol*, limonene* |
| Peppermint oil | menthol, caryophyllene, limonene*, pinene |
| Rosemary oil | pinene, camphor, caryophyllene, limonene*, terpineol, linalool* |
| Soybean oil | none |
*In Europe, cosmetics applied to the skin must disclose these ingredients when the concentration exceeds 0.001 percent (SCCS 2003).
** Known human allergens identified by the European Commission Scientific Committee on Consumer Safety (SCCS 2011).