Forbidden Fruit | Illegal Pesticides in the US Food Supply
Illegal Pesticides in the U.S. Food Supply
Table 3
Forbidden Fruit | Illegal Pesticides in the US Food Supply: Table 3
Table 3. Seven U.S. crops contribute approximately one billion pounds of produce contaminated with illegal pesticides to the food supply each year.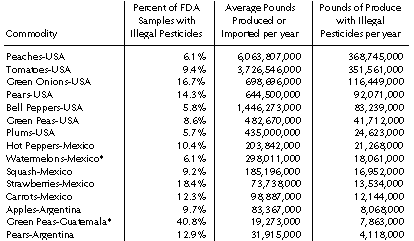 Figures are from FY 1992 and 1993 unless otherwise indicated.
Sources: Environmental Working Group. Violation rates compiled from Food and Drug Administration Pesticide Monitoring Database FY 1992 and 1993. Surveillance data only. U.S. production figures compiled from USDA Noncitrus Fruits and Nuts 1994 Preliminary (FR NT 1-3(95)) and USDA Vegetables 1994 Summary (Vg 1-2(95)), National Agricultural Statistics Service, January 1995. Import figures are from Foreign Agricultural Trade of the U.S., November/December 1993.
*Indicates source is from 1991: USDA U.S. Imports of Fruits and Vegetables Under Plant Quarantine Regulations, Fiscal Year 1991. Economic Research Service. Statistical Bulletin Number 859, August 1993.