Forbidden Fruit | Illegal Pesticides in the US Food Supply
Illegal Pesticides in the U.S. Food Supply
Table 2
Forbidden Fruit | Illegal Pesticides in the US Food Supply: Table 2
Table 2. Summary of Results.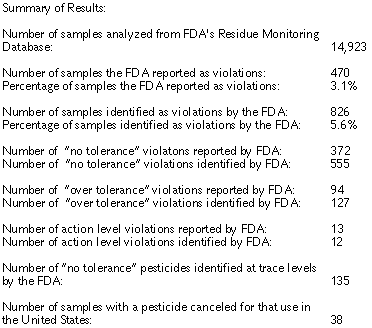 The total number of no-tolerance, over-tolerance, action level, trace, and canceled pesticides are greater than the total number reported and identified by the FDA due to the presence of multiple illegal pesticides on many different samples.
Source: Environmental Working Group. Compiled from Food and Drug Administration Pesticide Monitoring Database FY 1992 and 1993. Surveillance data only.