NO ESCAPE:
Tests Find Toxic Fire Retardants in Mothers – and Even More in Toddlers
EWG.org
Regulatory reform is needed
NO ESCAPE: : Regulatory reform is needed
Regulatory reform is needed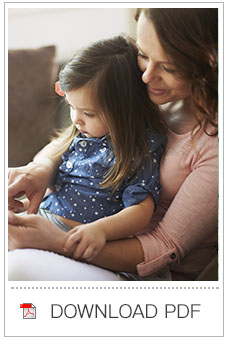 Everyone wants to be safe from fire. Yet how a government agency decides to test furniture for flammability makes an important difference. California's 1975 TB117 rule, which required that foam in all furniture sold in the state to withstand ignition from a small open flame for 12 seconds, is a case in point. The easiest and cheapest way for manufacturers to meet the standard was to apply large volumes of fire retardant chemicals to the foam—about 5 percent by weight of the foam (Stapleton 2012b). Yet this rule did not effectively prevent furniture fires, because it ignored the reality that the outer fabric would ignite first, and once ignited, the flames would be much larger than the flame retardants inside the foam could handle.
Many companies chose to treat all the polyurethane foam used in furniture with fire retardants so they would not need to manufacture one set of products for California and another for the rest of the country. Furniture containing fire retardants is now common throughout the U.S., and since there are no federal labeling laws, consumers cannot determine whether their couches and cushioned chairs contain these chemicals. Some labels contain wording such as, "This article meets the flammability requirements of the California Bureau of Home Furnishings Technical Bulletin 117," indicating the product likely contains fire retardants. Due to this problem, Duke researchers now offer free testing of furniture foam for fire retardants.
Conversely, not all treated products bear this label. Its absence does not guarantee a fire retardant-free product. For example, a 2012 study found that 60 percent of samples from couches without a TB117 label contained fire retardants (Stapleton 2012b). Furniture meeting the new California standard must bear a label reading "This article meets the flammability requirements of the California Bureau of Electronics and Appliance Repair, Home Furnishing and Thermal Insulation Technical Bulletin 117-2013," but this also does not mean the product is free of fire retardants. If fire retardants are added to a product, a label should spell out what those chemicals are so that consumers are not left in the dark.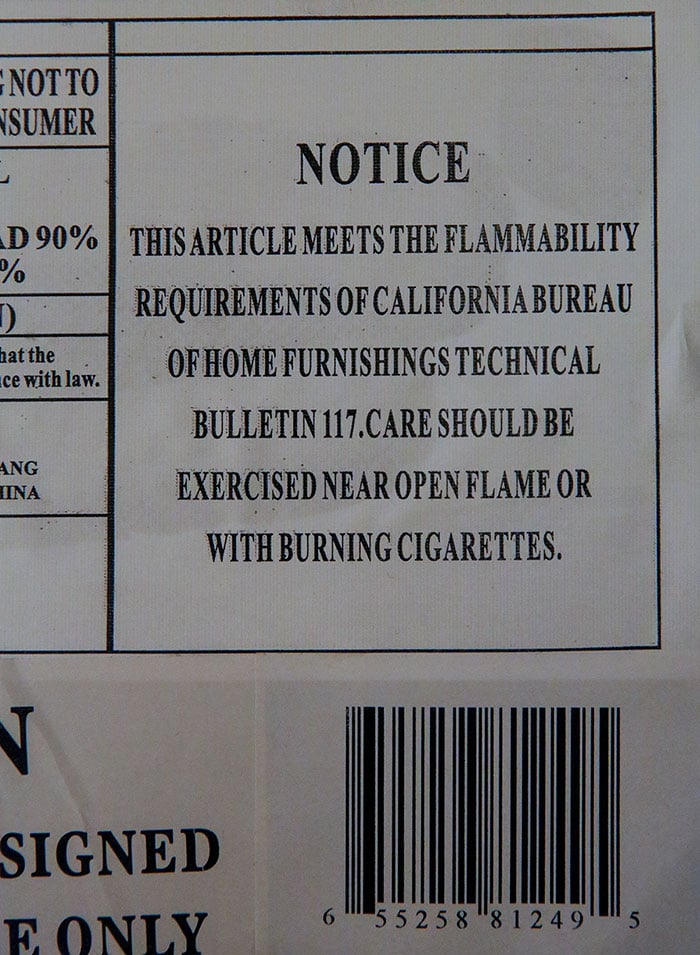 Previous TB117 label indicates that fire retardants were likely added to the furniture.
In 2012 California Gov. Jerry Brown directed the state's Bureau of Electronic and Appliance Repair, Home Furnishings and Thermal Insulation to revise TB117 due to the mounting environmental and human health concerns surrounding fire retardants (California Office of the Governor 2012). Effective Jan. 1, 2014, manufacturers of upholstered furniture were no longer required to meet open flame test in California.
The revised standard, TB117-2013, focused on smoldering ignition sources, the leading cause of fires in upholstered furniture and associated deaths (National Fire Protection Association 2011). When it established the new standard, the California agency concluded that TB117 had not adequately addressed the flammability of upholstery fabric and that flame retardant foam could actually increase fire danger from smoldering ignition sources like cigarettes (BHFTI 2013). It cited studies by the U.S. Department of Commerce and the Consumer Product Safety Commission that found no significant differences in the safety of furniture containing flame retardant foams formulated to pass TB117 and untreated foams (Department of Commerce 1985; CPSC 2012).
The new California regulation does not restrict the use of fire retardants. Rather, it eliminates the need for furniture makers to use these chemicals in order to pass the open flame test. California officials expect that many companies will choose to phase out fire retardants voluntarily.
No national flammability standards exist for upholstered furniture. In 2008 the Consumer Product Safety Commission proposed a standard that focused on preventing fires from smoldering ignition sources, similar in intent to the new California regulation (CPSC 2008). Manufacturers could meet the requirements of the Consumer Product Safety Commission proposal by using either smolder-resistant cover materials or an interior fire barrier, neither of which would require fire retardant chemicals. However, this rule has not been adopted. There are indications that agency may bow to industry pressure and develop an "open flame" standard that would likely strongly encourage the heavy use of chemical fire retardants—increasing people's exposure to toxic chemicals.
Some states banned the use of certain fire retardants, such as some chlorinated alkyl phosphate compounds. Last year, Vermont enacted a statute that banned the sale and manufacture of children's products and upholstered furniture containing TDCIPP and TCEP. New York passed legislation prohibiting the sale of products containing TCEP intended for children under three. A proposal now before the New York legislature would ban TDCIPP in children's products. Lawmakers in Maryland, Alaska, Connecticut, Delaware, Illinois and Massachusetts have proposed legislation to ban certain fire retardants, including chlorinated compounds such as TDCIPP, in children's products and/or upholstered furniture.
State-level actions do not guarantee that people's exposure to fire retardant chemicals will decrease. To the contrary, bans on specific fire retardants will likely cause chemical companies to market replacement chemicals that might be just as bad or worse than those they purport to replace. As the EWG-Duke study shows, fire retardants formulated to replace PBDEs are showing up in people's bodies. And their use in consumer products is increasing.
Toxic Substances Control Act of 1976 should be updated
Fire retardants and other chemicals in U.S. commerce are regulated by the Toxic Substances Control Act, which has not been significantly updated since its enactment in 1976. Under this law, chemical manufacturers are not required to conduct toxicity testing or demonstrate that their chemicals are safe. As a result many chemicals in commerce in the U.S. have not been adequately tested for toxicity. This compares poorly to the chemical regulatory framework in the European Union, where chemicals in commerce are required to have health and safety information.
When the Toxic Substances Control Act took effect, 60,000 chemicals already in commerce were "grandfathered" and were not evaluated for safety. The EPA has been able to require testing on only about 200 of the chemicals listed on its so-called TSCA Inventory, now numbering more than 84,000 (Jones 2013). Consequently, the potential human health dangers of many chemicals, including fire retardants, are unknown. The need for chemical policy reform is painfully obvious. Legislation to improve chemical policy should require manufacturers to provide toxicity data to substantiate safety before a product is introduced to the market.